How do I cite an essay from a database that was first published in a journal and later anthologized?
Note: This post relates to content in the eighth edition of the MLA Handbook. For up-to-date guidance, see the ninth edition of the MLA Handbook.
Cite the version of the essay that is contained in the database because that is the version you are using.
Let's say, for example, you wish to cite Allen Porterfield's essay "Zacharias Werner as a Preacher" from the database Literary Sources, published by Gale.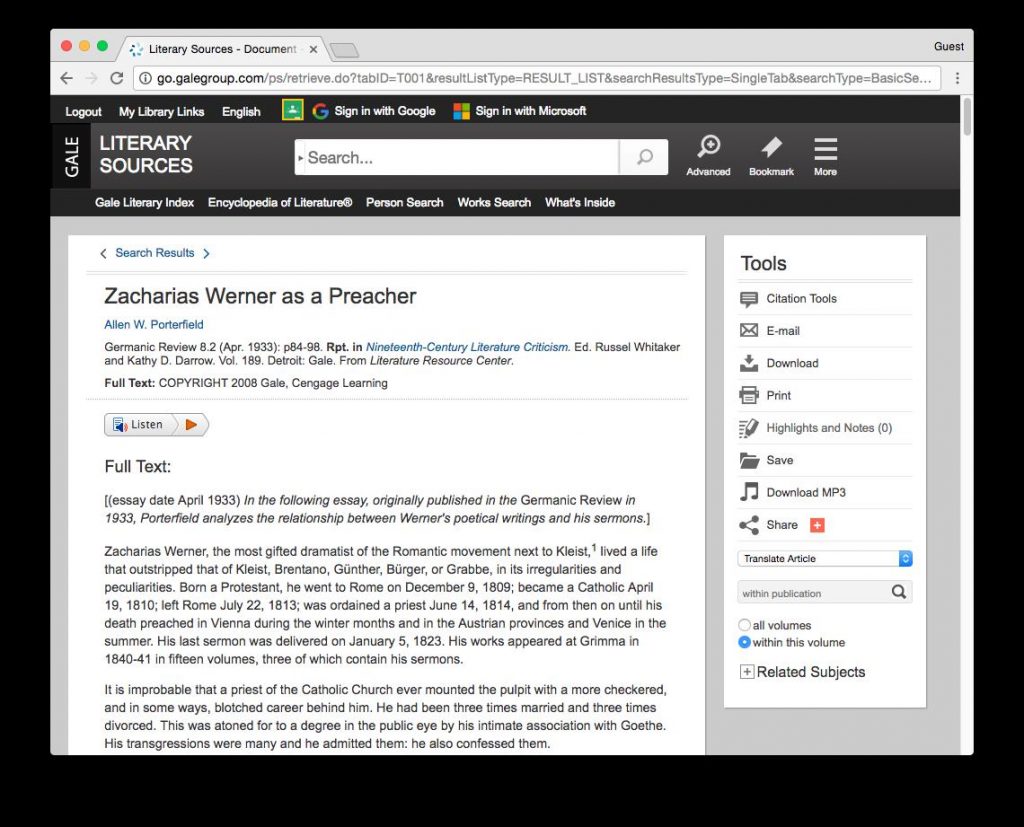 The database notes that the essay originally appeared in Germanic Review and was then reprinted in an anthology called Nineteenth-Century Literature Criticism. The version of the essay in the database is the one from the anthology.
To cite the essay, follow the MLA format template. Provide the name of the author and the title of the essay. Then list Nineteenth-Century Literature Criticism as the title of the container, followed by the names of the volume's editors and the publication details for the anthology. In a second container, list the name of the database as the title of the container and the URL for the database as the location. You can provide original-publication information—that is, the information for Germanic Review—in the optional-element slot at the end of the entry if you think it is important for your readers to know where the essay first appeared:
Porterfield, Allen W. "Zacharias Werner as a Preacher." Nineteenth-Century Literature Criticism, edited by Russel Whitaker and Kathy D. Darrow, vol. 189, Gale, 2008.  Literary Sources, galegroup.com/ps. Originally published in Germanic Review, vol. 8, no. 2, Apr. 1933, pp. 84-98.
The example above uses a short form of the URL because the complete URL is long and because the short form leads to the Gale log-in page through which the reader can access the Literary Sources database and search for the work by its author and title.
Read more on shortening URLs.