If I have edited an image for publication, how do I cite it?
Note: This post relates to content in the eighth edition of the MLA Handbook. For up-to-date guidance, see the ninth edition of the MLA Handbook.
Indicate in your caption that you have edited the image. For works that will be published, ensure that you have been granted the rights to do so by the rights holder.
Say, for example, that you have used this digital image of Berthe Morisot's nineteenth-century painting Reading in your paper: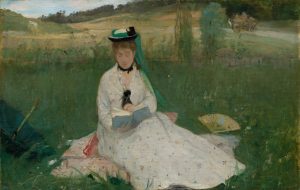 But instead of inserting the image as is, you have replaced the book in the painting with a picture of a twenty-first-century novel. Your caption might read as follows:
Adapted from Berthe Morisot; Reading; 1873; The Cleveland Museum of Art, www.clevelandart.org/art/1950.89.
For more on citing captions, visit the Formatting a Research Paper page and read our post on punctuating captions.